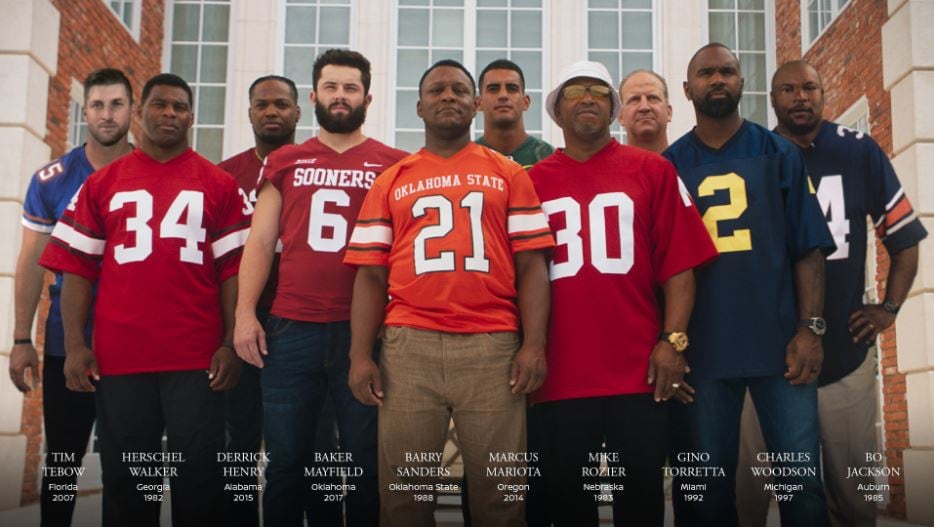 It's fun to shop for new vehicles like the 2018 Nissan Rogue and the 2018 Nissan Murano, isn't it? We think it's a ton of fun to see people fall in love with the automobiles we sell and lease, which is why we enjoy what we do so much.
We also like that the brand we represent is always thinking of entertaining ways to engage automotive enthusiasts. One way the car maker engages with its fans is through the Heisman House campaign. This is the eighth year that the Heisman House has existed. The Heisman House is a fictional fraternity that gives people an idea of what things might be like if former Heisman Trophy winders were to live together under one roof.
Baker Mayfield, Bo Jackson, and Gino Torretta will "reside" in this year's Heisman House for the first time. Returning cast members Herschel Walker, Mike Rozier, Barry Sanders, Charles Woodson, Tim Tebow, Marcus Mariota, and Derrick Henry will join the newcomers in the Heisman House.
This year's Heisman House campaign will include seven 45-second ads and five 15-second commercials. The first commercial, "Calling All Heismans," made its debut on August 30, 2018 and it featured Charles Woodson.
When you visit our Indianapolis, IN Nissan dealership, we'll explain that you can vote for the player you think will win the Heisman Trophy. In 10 out of 11 years, the fan vote winner has gone on to win the coveted Heisman Trophy.
"The Heisman House campaign has proven to be a tremendous opportunity for [the] Nissan [brand] to creatively feature our robust vehicle lineup and innovative technology in front of the massive audience that is college football fans," said Jeremy Tucker, vice president, marketing communications and media, Nissan North America, Inc.
To learn more about the Heisman House campaign, contact Tom Wood Nissan.