Indianapolis, the capital of Indiana, has a lot to offer residents and visitors. The Indianapolis 500 is probably Indy's most famous event, and the city is home to 11 popular sports teams. Yet there is more to do in Indianapolis besides sporting events, like visiting the city's only drive-in movie theater or stepping back in time to play your favorite arcade games. To help you discover new things to do in Indy, Tom Wood Nissan created this list of six places you may have never seen before.
Tibbs Drive-In Theater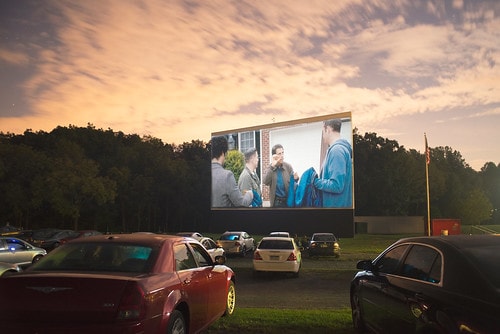 ?
Image via Flickr by Discover Lehigh Valley, PA
When was the last time you went to a drive-in? Indianapolis's only drive-in theater, Tibb's Drive-in, is open for the 2022 season. Tibb's is family-owned and operated, featuring four screens of your favorite movies. They show both first-run and classic films and have a large concession stand where you can get corn dogs, funnel fries, nachos, or a root beer float. The drive-in is pet friendly, so you don't have to leave your beloved dog at home.
Recapture some of the nostalgia of decades past while enjoying the latest Hollywood blockbuster. Their concessions are often cheaper than options at a traditional theater, and you can catch a double feature for the price of one movie. Tibb's Drive-in allows you to bring in food and drinks, so you can pack up the family vehicle with some lawn chairs, snacks, and a cooler of beverages, then head over to Tibb's and enjoy a drive-in movie that will remind you of simpler times.
The Ruins
Today, The Ruins in Holliday Park is a beautiful community area popular for family events like concerts and festivals. This eclectic collection of sculptures has a fascinating origin story that began with the demolition of New York's first skyscraper. When Western Electric tore down the St. Paul Building in 1958, the company held a competition to preserve the historic building's facade. Indianapolis won the contest and received three impressive Indiana limestone sculptures known as "The Races of Man" to display in the city's arboretum.
The original exhibit took nearly 20 years to complete while the designer added additional pieces of demolished buildings to the sculptures. The original collection included Greek columns, statues, and a large reflecting pool. The relics deteriorated over time, and the city closed the area in the mid-1990s.
It took another 20 years for the city to revitalize and reopen the display, now a stunning park featuring a fountain, a children's water table, and beautiful gardens. The rich story of The Ruins gives the attraction a significant role in the city's history.
Major Restaurant
Major Restaurant is an Ethiopian-Eritrean restaurant on the west side of Indianapolis. The restaurant's website explains Ethiopian-Eritrean dining customs and describes the ritual breaking of injera, a type of traditional Ethiopian-Eritrean bread. The spongy brown pancake-like bread comes with most menu items. Breaking injera together and sharing a dish signifies loyalty and friendship in Ethiopian culture.
The dining custom is a riveting experience for first-time guests. Diners break off bite-sized pieces of injera and pinch some of the stew-like toppings with their fingers. The restaurant serves traditional stews and pasta dishes. Meat, vegan, and vegetarian options are available. Injera, which comes with nearly every menu option, is one example of a vegan selection. The restaurant offers a variety of beer, wine, and other beverages to enjoy with your meal. You'll enjoy Major Restaurant's colorful decor, casual ambiance, and delicious, authentic food.
Boss Battle Games
Adults can reconnect with their youth at Boss Battle Games, a retro-style arcade in Castleton Square Mall. This impressive video game collection has over a thousand machines, featuring classic gems like Frogger and Ms. Pac-Man, pinball machines, and multi-sensory driving games. Fortunately, you won't need a pocket full of quarters, since the $10 admission fee allows for unlimited gameplay during your visit. Boss Battle Games also offers six different console games with controllers so you can revisit your favorite original systems.
Families can enjoy playing multiplayer games that allow three or more people to play interactively. If you grew up playing in the original arcades in the '80s, you might enjoy this more than the kids. If you're looking for a unique party venue, you can rent the hidden private party room or reserve the whole arcade for a private event.
Porter Books and Bread
Although traditional neighborhood bookstores are becoming a thing of the past, Porter Books and Bread puts a used bookshop, a cafe, and a coffee shop under one roof. Porters strives to use locally sourced ingredients for menu items. It offers both breakfast and lunch, a selection of baked goods, and even roasts its own coffee.
You can enjoy items like egg sandwiches, thick avocado toast, or biscuits and gravy for breakfast. The book shop creatively names entrees with a literary theme so that you can order a Poe, Vonnegut, or Austen sandwich for lunch. Porters bakes bread in-house daily, and customers can order fresh-baked loaves or trays of focaccia in advance.
Enjoy light background music while browsing an impressive collection of used books, and head up the vintage spiral staircase to browse the book shop's second floor. The community-oriented restaurant is a popular gathering space. Porter Books and Bread is one of Indy's hidden gems, and it's definitely worth the effort to seek out this charming store.
Twisted House
Another unique local attraction is the Twisted House, created in 2005 by artist John McNaughton. Located at the Indianapolis Art Center, visiting this whimsical sculpture will make you feel as though you've stepped into the pages of a Dr. Seuss book. The topsy-turvy house bends completely in half, so the roof rests on the ground near its foundation. The structure is composed entirely of cedar, including its decorative flowers and flowerpots. Viewers can enter the wood sculpture and stand inside to peer out the back window into the lush forest behind.
That concludes our list of six places you've never been to in Indianapolis, Indiana. How did we do? Did we mention any places in Indy you haven't been to yet? Let us know what you think of our suggestions and share your own favorite attractions so we can add them to our list.