Planning a fun date is half the fun, and Indianapolis is a bustling city with a slew of options to keep you and your significant other entertained. Typical date-night activities like dining out, going to the movies, or picnicking in one of the lovely city parks are all wonderful options. But what happens when you've exhausted all of your regular date-night options? Read on to learn about our list of unique date ideas in Indianapolis for when you're in the mood to do something different than usual.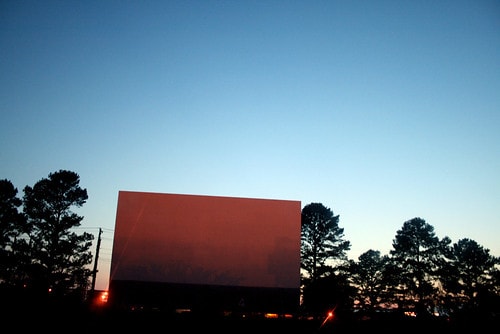 Tibb's Drive-In Theater
As the only drive-in theater in Indianapolis, Tibb's Drive-In Theater is a classic way to enjoy a night out at the movies. The family-owned and operated establishment has been proudly serving the Indianapolis community since the 1960s and is an ideal option for those who love nostalgia, or want to experience seeing your favorite flick under the starry sky.
You and your date can relax and enjoy the privacy of your own car without having to stay quiet, which is perfect if you are someone who likes to discuss what is happening on-screen with your date. There is a full-service concession stand so you don't have to worry about bringing your own snacks. Everything from popcorn, to soft pretzels and soft-serve ice cream is available.
Image via Flickr by theogeo
You can find this blast-from-the-past at 480 S. Tibbs Ave. The box office opens at 6:30 p.m. Friday and Saturday and 7 p.m. on Thursday and Sunday. Admission prices are $11. Check the website for a schedule of showings. To learn about hosting your own event at this venue, you an fill out their online form or call 317-243-3810 during regular business hours.
Butler University's Holcomb Observatory and Planetarium
There are few things more timeless than star-gazing with a special someone. Bring romance to your date night while learning about astronomy by visiting the Holcomb Observatory and Planetarium. As one of the largest public observatories in the world, Holcomb Observatory and Planetarium has been serving Butler University students and central Indiana for over 60 years. The observatory is home to a powerful 38-inch Cassegrain reflector and several other smaller telescopes.
You can visit the observatory during regular public tours on the weekend. General-admission tickets are $8 for adults. Full-dome planetarium shows begin at 7:30 p.m. If the weather allows, telescope viewing is from 8:30 to 9:30 p.m. Sit beside your date as you explore the galaxy and cosmos together. No food and drinks are allowed in the planetarium so make sure you plan to eat before or after your visit.
Holcomb Observatory and Planetarium is on the north end of Butler University Campus at 4600 Sunset Ave. There are 66 stairs leading to the telescope room from the lobby and three sets of steps to the telescope. For more information, call 317-940-8333 or email holcombobseratory@butler.edu.
The Slippery Noodle Inn
The Slippery Noodle Inn, originally founded in 1850, is Indianapolis's oldest and continually operated bar. Sitting in its original building, the Slippery Noodle Inn features live blues seven nights a week. The perfect date-night option for the music-loving couple, it is just steps away from Lucas Oil Stadium and in addition to its normal hours, Slippery Noodle Inn opens for every Indianapolis Colts home game. The building itself is a trip back into history, as it was used as a station for the Underground Railroad and is listed in the National Register of Historic Places. Although it was originally a roadhouse and a bar, it was also one of the first German clubs in Indianapolis.
The Slippery Noodle features local talent nightly, and you can plan your evening by checking out their event page. If you head there for lunch before a game or prior to catching a show at the planetarium, grab the lunch special. For $9.99 you get a generous-sized sandwich and soup. Their regular menu offers an array of items from salads to burgers to filet mignon. They also feature a late-night menu with items like jalapeno pickle spears with beer batter, jumbo-breaded wings, beef and bacon nachos, and the jumbo pork tenderloin sandwich.
You'll find the Slippery Noodle Inn sitting at 372 S. Meridian St. Their business hours are Tuesday through Thursday from 11 a.m. to 1 a.m., Friday and Saturday from 11 a.m. to 2 a.m., and closed on Sunday through Monday. For information or to learn about the catering service, call 317-631-6974.
Studio Movie Grill
Studio Movie Grill is the perfect marriage of dinner and a movie. Located in the College Park Plaza Shopping Center, Studio Movie Grill features 13 auditoriums with digital protection, a full-service bar and lounge, and fresh cooked food. The menu has a generous selection of American favorites, from burgers and fries to appetizers. Loyal customers love the coconut chicken or shrimp. Your protein of choice is hand-battered in perfectly seasoned panko crumbs. The dish is served with Thai chili sauce for dipping. You can also opt to share the southwest quesadillas with poblano and jalapeno peppers.
They also have a host of popular motion pictures, so you can choose a romantic comedy or a suspenseful drama. Arrive about 20 minutes before your scheduled showing to get situated in comfort. You'll find this venue at 3535 W. 86th St. Check the website for a schedule of showings and ticket prices. For more information, call 317-315-8113.
Trader's Point Creamery
For a sweet treat, visit Trader's Point Creamery at 9101 Moore Road. The creamery produces fresh milk, cream, cheese, and ice cream from organic and non-homogenized milk. Their farm-to-table restaurant offers lunch, dinner, and brunch, and treats guests to an evening cow milking open for public viewing. If you go for brunch, grab the cheese board for the table. It comes with fresh cheese made on their farm, fig jam, mustard, and honey. Pair it with a Farmstead mimosa and you'll be in heaven.
The perfect spot for animal lovers, you can enjoy a relaxing stroll together on the farm. For information, or to schedule a private tour of the property, call 313-733-1700.
So there you have it. Tom Wood Nissan has just shared with you our list of the top five unique date ideas in Indianapolis. If you're feeling romantic and adventurous, try one of these ideas for something new. What do you think of our list of suggestions? Did we miss your favorite spot to visit to make your date something different and exciting? If we did, let us know! Leave us a message sharing your ideas and we'll be happy to check it out.